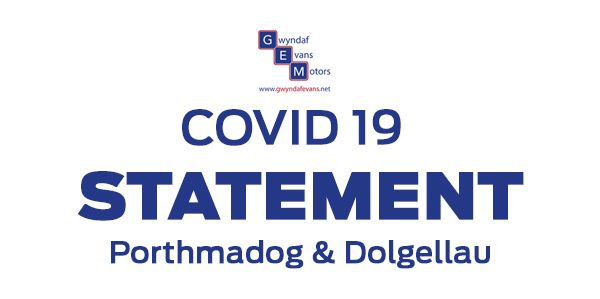 Gwyndaf Evans Motors - Covid19 Update
Following Government guidance published on the 23 March 2020 we can confirm that our Showrooms at both Dolgallau and Porthmadog are now CLOSED.
However… the guidlines identified garages as providers of essential services to the community and key workers.
Therefore in order to provide the community with a service we are operating on a much reduced scale to provide emergency and essential work as and when required.
This will be reviewed regularly and in accordance with latest Government guidance.
Please be assured that stringent measures are being followed with our staff washing their hands at regular intervals. Protective gloves are worn and changed between each job.
To minimise contact we ask that you conduct your initial enquiry by phone or online.
When you arrive, the keys of your vehicle should be placed in the secure box provided and be collected from there when the vehicle is ready. Please note the customer waiting area is closed.
Collection and delivery can be arranged in an emergency but we are not able to provide a courtesy car.
Our opening hours from Monday 30th March are
Monday – Friday : 9am – 5pm
Closed on Saturdays
For any further enquiries:
➡️ Sales
➡️ Service
➡️ Emergency work
➡️ Key Worker Support
…please contact us as below:
Email: info@gemotors.co.uk
Tel: 01341 423 441
Emergency Telephone: 07932 427 115
Your email or call will be answered as soon as possible
Thank you / Diolch
Latest News
09-12-2020
We know it can be frustrating and time consuming to take diversions and it can…
Read more >
09-12-2020
On the 29 June, the Department for Transport announced that the 6-month MOT…
Read more >