Suzuki Ignis with Affordable Finance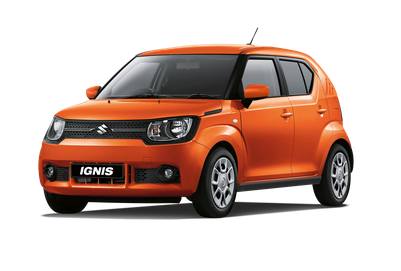 Enjoy the Ride
The Suzuki Ignis is a little car with big style, and for even more fun the Ignis is now available with up to £2,000 off*
Ignis Range from £9,999†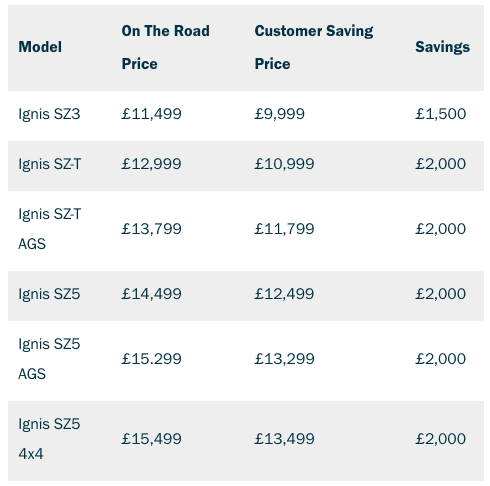 So if you want a little car with big personality with a mix of 4×4 spirit and technology then the Ignis is the perfect drive for discoverers, adventurers and you only live once-ers.
………..
Official fuel consumption figures in mpg (L/100km) ­– Ignis range: Urban from 51.3 (5.5) to 57.6 (4.9), Extra Urban from 64.2 (4.4) to 70.6 (4.0), Combined from 60.1 (4.7) to 65.7 (4.3). Official CO2 emissions from 106g/km to 97g/km. Fuel consumption figures are based on an EU test for comparative purposes only and may not reflect real driving results.
*£2,000 customer saving available on Ignis SZ-T, SZ5 and Adventure Models. £1,500 customer saving available on Ignis SZ3 models. Offer applies to UK private retail customers purchasing and registering a new Ignis from participating Dealers between 1st July and 30th September2018. †Price based on Ignis 1.2 Dualjet SZ3 manual (excluding metallic paint but including £1,500 customer saving). Offer cannot be used in conjunction with any other offer unless otherwise stated. All prices, specifications and offer correct at the time of going to print. Offer may be withdrawn at any time. Offer correct at the time of being published. Excludes Channel Islands and Isle of Man.